At the beginning of the week, the cryptomarket showed a cautious rise. Bitcoinexceeded the level of $4,000, but further growth impulse did not receive proper development and cryptomarket started sell-off. The benchmark bitcoin loses more than one per cent, closely approaching the $4K threshold (albeit, now from above) top altcoins demonstrate a more significant drawdown in the range of 2% – 4%.
It is a matter of concern that Bitcoin did not receive a growth momentum after exceeding the threshold 4000. In the absence of rapid growth after taking an important level, market scepticism often increases: some bull speculators are the first to go out of purchases if the asset does not receive a growth momentum.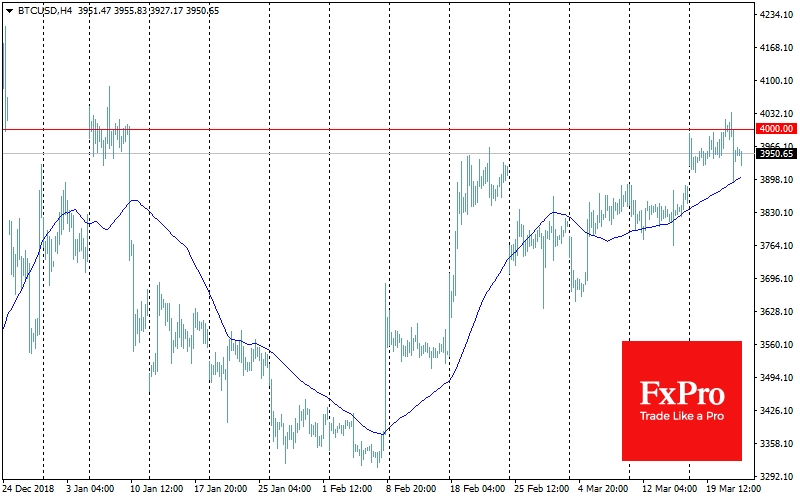 Bitcoin exceeded the level of $4,000, but further growth impulse did not receive proper development
Positive moods on the markets have recently been based on the assumptions that some positive fundamental shifts are taking place. The only problem is that this happens much slower than crypto-enthusiasts forecasted.
Since 2013, the number of companies that accept cryptocurrency as payment has increased more than sevenfold, although this is negligible to at least come close to the scale of Visa (NYSE:V) or Mastercard (NYSE:MA). Swedish online retailer Digitec Galaxus AG and a supplier of electronic components from Phoenix Avnet with a total annual turnover of more than $ 18.4 billion have become the last largest companies accepting Bitcoin.
Bad news came from the SEC. As part of the public comment, the application for Bitcoin-ETF from VanEck and SolidX received only 7 letters, of which in 6 cases there were recommendations to reject the application. It is worth recalling that in September 2018, the application for the launch of Bitcoin ETF received more than 1,400 letters, of which the vast majority were positive. The current state of affairs is associated with a long period of stagnation.
However, the cryptocurrencies adaptation within the traditional financial market is still moving forward. Recently it became known that now the Nasdaq, Reuters and Bloomberg platforms will publish several cryptographic indices based on CoinMarketCap data. In addition, CoinMarketCap, in partnership with Flipside Crypto, created a new rating system, FCAS, which will allow a new level of assessment of the "state of health" for any cryptocurrency.
An expectation of recovery can also be seen in the growth of the bitcoin network hash rate. Apparently, the growth is related to launch of the new ASIC miners from Bitmain and some of the turned off ones are coming back. "Hashrate & price" is still very tight peg for BTC. As for the graphics card mining, the F2Pool data indicate that their number has decreased by 5 million units since July 2018 to 8 million. Still, the most popular coin among GPU miners is Ethereum, but as the project approaches the transition to PoS mining, the situation in this direction will change not in favour of GPU chips.
Author: Alexander Kuptsikevich
Read more at: https://www.investing.com/analysis/cryptomarket-cannot-return-to-steady-growth-200400088